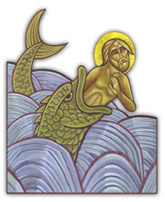 "Where can I flee from Your presence? If I ascend into Heaven, You are there; if I take the wings of the morning, and dwell in the uttermost parts of the sea, even there Your hand shall lead me, and Your right hand shall hold me" (Psalm 139:7-10).
Jonah, according to Hebrew tradition, was the son of the widow, whom Elijah, the prophet, raised from the dead at Zarephath of Sidon (II Kings 17:10-24). He was a prophet in the Northern Kingdom of Israel around 825-784 BC. Therefore, Jonah prophesied during the reign of Jeroboam II, the King of Samaria (II Kings 14:25).
The Holy Book of Jonah in the Old Testament tells the familiar story of Jonah, the fleeing prophet. Forty-eight verses comprise the entire story. This is a story of a legendary character with a nature similar to our own. Jonah, a contemporary of the prophet Amos, had faults, shortcomings, and weaknesses.
Author: H. H. Pope Shenouda III.
INTRODUCTION

Many write for adults and few are those who write for children.
Also, many occupy themselves talking with adults, but rare are
those who love to talk to children.
So, sometimes children feel they are not the core of attention
and respect of adults, and accordingly they try to draw their
attention by many ways, perhaps by outcry or stubbornness or
(naughtiness).
In this book, we need to